Core Course in Appraisal Studies
Take your first step in the ISA credentialing pathway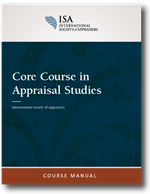 The ISA Core Course in Appraisal Studies is the "original" complete appraisal methodology course for personal property appraising. Participants learn appraisal theory, market research, ethics, and best practices on creating appraisals.
Most comprehensive and highly regarded introductory course to professional personal property appraising
Required to reach ISA Member-level status and get your professional listing on the Find an ISA Member public directory
Available as self-paced online course with 25 narrated lessons and an assigned instructor, or as a live online course
Price: $1,500 members, $1,700 nonmembers
Register for Online CourseView LIVE course offerings
Online Course Details:
25 narrated lessons to complete on your own time, at your pace
Start, pause and resume the course on your schedule
An assigned instructor to address your questions at any time
Online quizzes and discussion forums
Six months to complete the course with a maximum of two three–month extensions available at a cost of $200 each
Online Exam Proctoring Available
Who should take the Core Course:

The ISA Core Course is ideal for those looking to begin a career in personal property appraising, whether applying previous relevant experience and education, or not. Candidates are typically art scholars, curators, collectors, museum staff, antique dealers, auctioneers, estate liquidators, and others involved in the professional valuation of personal property.