S. W. Hale, ISA AM, WSET2, Specialty Studies: Western | Native | Latin | American Art & Wine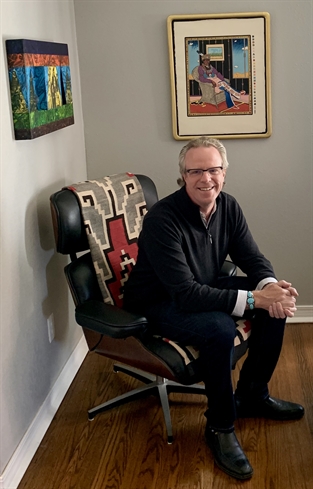 Contact
S. W. Hale
ISA member since Oct 01, 2003

(855) 622-2462 (Office)

Address #1
SWAA | SWWA
1000 Cordova Pl #345
Santa Fe, NM 87505 map
Address #2
1515 Lincoln Gallery
1515 N. Lincoln
Oklahoma City, OK 73104 map
Address #3
East Office
New York, NY 11211 map
Address #4
South Office
Scottsdale, AZ 85251 map
Address #5
Mountain Office
Denver, CO 80218 map
Address #6
Central Office
Tulsa, OK 74133 map
Address #7
West Office
Los Angeles, CA 90404 map
---
About
SW (Scott) Hale is a third generation art & wine appraiser & advisor. Scott is the former director of the Brett Weston Archive, and curated several private, corporate, and non-profit collections, responsible for museum exhibitions and publications including the traveling retrospective, "Brett Weston: Out of the Shadow." In these roles he worked with numerous outstanding international museums, galleries, auction houses, publishers and especially collectors.
Scott is a graduate of Trinity University and The University of Oklahoma where he pursued his masters and doctoral studies, teaching for over ten years in the English Department, Film and Video Studies Program, Native American Studies Program, lecturing in the School of Art and Art History, as well as at Gilcrease Museum, National Cowboy & Western Heritage Museum (Cowboy Hall of Fame), Oklahoma City Museum of Art, Fred Jones Jr. Museum of Art, Museum of Indian Arts and Culture, and The Wheelwright Museum of the American Indian. Scott has also published in books and periodicals including: American Indian Portraits, First American Art Magazine, The Antique Tribal Art Dealers Association's News, Museum Anthropology Review, Photograph Collector's Guide, World Literature Today, and was featured in Native American Art Magazine.
An independent art advisor, author, curator, and speaker, Scott brings extensive scholarship in Naturalism, Romanticism, Regionalism, Modernism, Postmodernism, Indigenous, Latinx, and other historic and contemporary American, Canadian and Mexican art histories, as well as academic research and writing skills to each appraisal report. Scott has served as an auction house specialist (Sotheby's and Santa Fe Art Auction), exhibitions and advisory committee member, art juror, conference presenter/panelist, charity auctioneer, and media personality.
Scott also has extensive education and experience in fine wines & spirits, working with wineries and distillers, distributors, restaurants, wine and liquor stores, and private collectors. Scott holds a Level 2 award, with Merit, from the Wine & Spirits Education Trust and the Napa Valley Wine Academy as well as coursework in wine appraisals with the Appraisers Association of America.
Scott is an IRS Qualified Appraiser, and Accredited Member, instructor for Advanced Report Writing courses, and former chair of the Specialty & Advanced Studies Committee for The International Society of Appraisers, and a Chubb Preferred Service Provider. He is ISA qualified through 2023. Scott is educated and tested in USPAP as established by The Appraisal Foundation and is qualified through 2024.
SOUTHWEST ART APPRAISALS & ADVISORY provides nationwide services specializing in artifacts, antiques, baskets, beadwork, blankets, bultos, carvings, ephemera, ex-votos, jewelry, kachinas / katsinas, paintings, photographs, pottery, prints, retablos, rugs, santos, sculptures, textiles, and other historic and contemporary Native, Western, Latin, and American fine art, objects, and photographs, with emphasis in Bacone School, Cowboy, Dallas Nine, Dunn Studio, FSA, f/64, IAIA, Indian Agency, Kiowa Five/Six, Los Cinco Pintores, Photo Secessionists, Prairie Print Makers, Pueblo, Railroad, Rio Grande, Regional, Santa Fe Art Colony, Spanish Colonial, Taos Society Artists (TSA), Taos Moderns, Transcendental Painting Group, Works Progress Administration (WPA), and other works by the following and similar artists:
Indigenous | Native:
Abeyta, Narciso/Ha So De Platero (1918-1998)
Abeyta, Tony (1965-)
Atencio, Gilbert/ Wah Peen (1930-1995)
Asah, Spencer (ca. 1910-1954)
Auchiah, James (1906–1974)
Beaver, Fred (1911-1980)
Begay, Harrison/Haskay Yahne Yah (1914- )
Begaye, Marwin (1970- )
Blackowl, Archie/MisTaMooToVa (1991-1992)
Blue Eagle, Acee (1907-1959)
Burgess, Nocona (1968- )
Calabaza, Crucita/Blue Corn (1921-1999)
Cannon, Tommy Wayne "TC" (1946-1978)
Chapella, Grace/ White Squash Blossom (1874-1980)
Charlie, Lena Chio (ca.1908-ca.1960s)
Charley, Karen
Chee, Mark (1914-1981)
Chee, Robert/ Hashke-Yil-e-Cale (1937-1971)
Chino, Marie Z. (1907-1982)
Cody, Melissa (1983- )
Coffin, Doug (1946- )
Cordero, Damacia (1905-1989)
Cordero, Helen (1915-1994)
Crumbo, Woody (1912-1989)
Da, Tony (1940-2008)
Da, Popvi (1922-1971)
de la Cruz, Lois and Derek
Draper, Robert (1938-2000)
Draper, Teddy (1949- )
Dunlap, Carmelita (1925- )
Eustace, Felecita (1927- )
Eustace, Jolene
Fields, Anita (1951- )
Fields, Annie (1884-1971)
Fields, Tom (1951- )
Fields, Yatika (1980- )
Folwell, Jody (1942-)
Galanin, Nicholas, (1979- )
Garcia, Sarah (1928- )
Garcia, Jason (1970- )
Garcia, Rose Chino (1928)
Garcia, Tammy (1969- )
Gates, Elmer (1929-1990)
Gibson, Jeffrey, (1972- )
Gonzales, Barbara (1947- )
Gonzales, Cavan (1970- )
Gonzales, Louis/Wo Peen (1907-1990)
Gonzales, Rose (1900-1989)
Gorman, R. C. (1932-2005)
Goodluck, Billy (1905-?)
Gutierrez, Margaret (1936-2018) & Luther (1911-1987)
Halfmoon, Raven (1991- )
Hardin, Helen/Tsa-Sah-Wee-Eh (1943-1984)
Hardridge, Starr (1972- )
Herrera, Velino Shije/Ma Pe Wi (1902-1973)
Herrera, Joe (1923-1990s)
Hinds, Patrick Swazo (1929-1974)
Histia, Mary (1881-1973)
Hokeah, Jack (ca. 1900-1969)
Holt, Lisa (1980- )
Honyouti, Brian (1947- )
Hood, Rance (1941- )
Houser, Allan (1914-1994)
Howe, Oscar (1915-1983)
Huma, Rondina (1947- )
Hunt, Wolf Robe (1905-1977)
Johnson, Kenneth (1967- )
Kabotie, Fred (1900-1986)
Kabotie, Michael (1942-2009)
Kahlhamer, Brad (1956- )
Kewanyam, Leroy C. (1922- )
Leno, Juana (1917-2000)
Lewis, Lucy (1898-1992)
Lewis-Garcia, Dolores (1938-)
Loloma, Charles (1921-1991)
Lovato, Charles (1937-1987)
Lucas, Steve (1955- )
Luger, Cannupa Hanska (1979- )
Lujan, Albert (1892-1948)
Lujan, Merina/ Pop Chalee (1906-1993)
Mahkee, Vern (1963- )
Marmon, Lee (1925- )
Martinez, Adam (1901-2000) and Santana Roybal (1909-2002)
Martinez, Anita (ca.1920s-1992)
Martinez, Julián/Pocano (1885-1943)
Martinez, Maria (1887-1980)
Monkman, Kent (1965- )
Montoya, Eudora (1905-1995?)
Montoya, Gerónima Cruz/P'otsúnú (1915- )
Mopope, Stephen/Qued Koi (1898-1974)
Naha, Helen/Feather Woman (1922-1993)
Naha, Paqua/Frog Woman (1890-1955)
Naha, Raymond (1933-1975)
Naha, Sylvia (1951-1999)
Nailor, Gerald (1917-1952)
Namingha, Arlo (1974- )
Namingha, Dan (1950- )
Namingha, Les (1967- )
Namingha, Michael (1977- )
Nampeyo, Annie Healing (1884-1968)
Nampeyo, Dextra Quotskuyva (1928-2019)
Nampeyo, Fannie (1900-1987)
Nampeyo, Iris Youvella (1944- )
Nampeyo, James Garcia (1958- )
Nampeyo of Hano (1857-1942)
Naranjo, Madeline (1916-2020)
Naranjo, Jody (1969- )
Naranjo, Louis (1932-1997)
Nequatewa, Verma/ Sonwai (1949- )
Ortiz, Virgil (1969- )
Ortiz, Seferina (1931-2007)
Panana, Ruby (1954- )
Pavatea, Garnet (1915-1981)
Peña, José Encarnacion/Soqween (1902-1979)
Peña, Tonita Vigil/Quah Ah (1893-1949)
Platero, McKee
Poolaw, Horace (1906-1984)
Poolaw, Thomas (1959- )
Poolaw, Wendy (1969- )
Quick-To-See Smith, Jaune (1940- )
Reano, Angie (1946- )
Reano, Charlene (1960- )
Reano, Harlan (1976- )
Red Star, Kevin (1943- )
Red Star, Wendy (1981- )
Rickey, Marcia/Ant Woman (ca.1930-ca.1990s)
Romero, Cara (1977- )
Romero, Diego (1964- )
Romero, Mateo (1966- )
Roybal, Alfonso/Awa Tsireh (1898-1955)
Roybal, J.D./Oquwa (1922-1978)
Roybal, Tonita (1892-1945)
Sanchez, Abel/Oqwa Pi (1899-1971)
Sanchez, Desideria (1889-1982)
Sanchez, Guadalupito (ca.1920-2011)
Sanderson, Cody (1964- )
Sandy, Percy Tsisete/ Kai-Sa (1918-1974)
Scholder, Fritz (1937-2005)
Seabourn, Bert (1931- )
Shutiva, Stella (1939-1997)
Silva, Monica (ca.1900-?)
Silver Horn/Haungooah (1860-1940)
Singletary, Preston (1963- )
Simplicio, Dan (1917-1969)
Simpson, Rose (1983- )
Sisneros Naranjo, Dominguita (1942- )

Smoky, Lois Kaulaity/ Bougetah (1907–1981)

Stone, Willard (1916-1985)
Swentzell, Roxanne (1962- )
Tafoya, Margaret (1904-2001)
Tahbo, Mark (1958-2010)
Tahoma, Quincy (1917-1956)
Tawaquaptewa, Wilson (1871-1960)
Tiger, Jerome (1941-1967)
Tenorio, Robert (1950- )
Toddy, Calvin (1955- )
Toledo, José Rey (1915-1994)
Torivio, Frances P. (1905-2001)
Trammel, Jennie (1929 -2010)
Trujillo, Reycita
Tsatoke, Monroe (1904–1937)
Tsihnahjinnie, Andrew (1916-2000)
Tuvahoema, Kyrate (1914-1942)
Velarde, Pablita/Tse Tsan (1918-2006)
Vigil, Manuel (1900-1990)
Vigil, Martina (1856-1916) and Montoya, Florentino (1858-1918)
Vigil, Romando/Tse Ye Mu (1902-1978)
Vigil, Tomás/Pan-Yo-Pin (1889-1960)
Watt, Marie (1967- )
West, Richard W. (1912-1996)
Whitehorse, Emmi (1957- )
Yazz, Beatien/Calvin Toddy (1928- )
Yazzie, Melanie (1966- )
Yuxweluptun, Lawrence Paul (1957- )
Latin | Spanish Colonial:
A.J. Santero (ca. 1830-1850)
Amero, Emilio (1909-1976)
Aragón, José (ca. 1781-1850)
Aragón, José Rafael (ca. 1783-1862)
Arroyo Hondo Painter (ca.1828-1850)
Barela, Patrociño (1908-1964)
Benavides, José Manuel (ca. 1798-post 1855)
Botero, Fernando (1932- )
Bravo, Lola Álvarez (1907-1993)
Bravo, Manuel Álvarez (1902-2002)
Brito, Frank (1922-2005)
Bustamante, (Sergio (1949- )
Carillo, Charles (1956- )
Carrington, Leonora (1917-2011)
Christmas Santero (ca. 1830-1840)
Fresquís, Pedro Antonio (1749-post 1831)
Gallegos, Celso (1864-1943)
Herrera, Juan Miguel (ca. 1870-1895)
Herrera, José Inés
Herrera, Nicholas
Iturbide, Graciella (1942- )
Jiménez, Luis (1940-2006)
Kahlo, Frida (1907-1954)
Laguna Santero (ca. 1790-1815)

López, Arthur P. (1971- )

López, George (1900-1993)
López, José Dolores
Miera y Pacheco, Bernardo (1713-1785)
Modotti, Tina (1896-1942)
Molleno (ca. 1800-1830)
Ortega, José Benito (1858-1941)

Orozco, Gabriel (1962- )

Orozco, Jos

é

, Clemente (1883-1949)
Posada,

Jos

é Guadalupe (1852-1913)

Quill Pen Santero (ca. 1820-1840)
Rabel, Fanny (1922-2008)
Rivera, Diego (1886-1957)
Rodríquez, Paula
Santo Niño Santero (1830-1860)
Siquieros, David Alfaro (1896-1974)
Tamayo, Rufino (1899-1991)
Truchas Master
Velásquez, Juan Ramón (1820-1902)

Zuniga, Francisco (1912-1998)
Western | American:
Adams, Ansel (1902-1984)
Adams, Charles Partridge (1858-1942)
Adams, Kenneth M. (1897-1966)
Adams, Robert (1937- )
Akin, Louis (1868-1913)
Annette, Ina (1901-1991)
Applegate, Frank (1882-1934)
Bakos, Jozef (1891-1977)
Bandelier, Adolph (1840-1914)
Baumann, Gustave (1881-1971)
Bavinger, Eugene (1919-1997)
Bayer, Herbert (1900-1985)
Becker, Frederick W. (1988-1974)
Beeler, Joe (1931-2006)
Bell, Charles M. (1848-1893)
Bell, Larry (1939- )
Benton, Thomas H. (1889-1974)
Berninghaus, Charles (1905-1988)
Berninghaus, Oscar E. (1874-1952)
Bierstadt, Albert (1830-1902)
Birren, Joseph P. (1864-1933)
Bisttram, Emil (1895-1976)
Blumenschein, Ernest (1874-1960)
Blumenschein, Helen (1909-1989)
Blumenschein, Mary (1869-1958)
Borein, Edward (1872-1945)
Botke, Cornelis (1887-1954)
Brett, Dorothy (1883-1977)
Buff, Conrad (1886-1975)
Budnik, Dan (1933- )
Buehman, Henry (1851-1912)
Burbank, Elbridge A. (1858-1949)
Burr, George E. (1859-1939)
Cameron, Evelyn (1868-1928)
Cassidy, Gerald (1879-1934)
Catlin, George (1796-1872)
Chase, D.B. ( -1897)
Coburn, Alvin L. (1882-1966)
Cook, Howard N. (1901-1980)
Couse, Eanger I. (1866-1936)
Cunningham, Imogen (1883-1976)
Curtis, Edward S. (1868-1952)
Curtis, Lavaun B (1905-1990)
Dallin, Cyrus E., (1861-1944)
Dasburg, Andrew M. (1887-1979)
Dawson-Watson, Dawson (1864-1939)
Delano, Gerard C. (1890-1972)
De Maria, Walter (1935-2013)
Dixon, Maynard (1875-1946)
Douglass, John (1905-1969)
Dozier, Otis Marion (1904-1987)
Dunton, William H. "Buck" (1878-1936)
Eaton, Edric L. (1836-1890)
Edwards, E. K. (1898-1993)
Edwards, Hobart (1936-)
Ellis, Fremont (1897-1985)
Ewing, Louie (1908-1983)
Farnham, Sally (1869-1943)
Fechin, Nicolai (1881-1955)
Flavin, Dan (1933-1996)
Fleck, Joseph (1892-1977)
Frank, Alyce (1932- )
Froman, Ramon M. (1908-1980)
Garnett, William (1916-2006)
Gaspard, Leon (1882-1964)
Gilpin, Laura (1881-1979)
Goff, Lloyd (1908-1982)
Gollings, William (1878-1932)
Goltry, Ralph (1884-1971)
Haddock, Arthur (1895-1980)
Hall, Arthur W. (1889-1981)
Hamlin, Edith A. (1902-1992)
Haynes, F. Jay (1853-1921)
Hiester, Henry T. ( -1895)
Hillers, John K (1843-1925)
Hennings, E. Martin (1886-1956)
Henderson, William P. (1877-1943)
Henri, Robert C. (1865-1929)
Higgins, Victor (1884-1949)
Hogue, Alexander, (1898-1994)
Hosmer, Lawrence F. (1895-1984)
Huffman, Lanton A (1854-1931)
Hullenkremer, Odon (1888-1978)
Hurd, Peter (1904-1984)
Hurley, Wilson (1924-2008)
Imhof , Joseph (1871-1955)
Irwin, William E. (1871-1935)
Jackson, William H. (1843-1942)
Jacobson, Oscar (1882-1966)
Johns, Jasper (1930- )
Johnson, Frank T. (1874-1939)
Johnson, William E. (1925-2003)
Jonson, Raymond, (1891-1982)
Judd, Donald (1928-1994)
Käsebier, Gertrude (1852–1934)
Keener, Anna E. (1895-1982)
Kelly, Ellsworth (1923-2015)
Koerner, William H.D. (1878-1938)
Kloss, Gene (1903-1996)
Lange, Dorthea (1895-1965)
Latham, Barbara (1896-1989)
Lavenson, Alma (1897-1989)
Leigh, William R. (1866-1955)
Lester, William Lewis (1910-1991)
Lichtenstein, Roy (1923-1997)
Link, Carl (1887-1968)
Lockwood, J. Ward (1894-1963)
Lougheed, Robert (1910-1982)
Lummis, Charles F. (1859-1928)
Mandelman, Beatrice (1912-1998)
Martin, Agnes (1912-2004)
Martinez, Pete (1894-1971)
Mauzy, Marrit Thomas (1897-1973)
McAfee, Ila (1897-1995)
McCann, Charles (1905-1979)
McCosh, Anne K. (1902-1994)
Mell, Ed (1942- )
Meyers, Ralph W.E. (1885-1948)
Mixer, Orren (1920-2008)
Moon, Karl E. (1879-1948)
Moorhouse, Lee (1850-1926)

Moran, Peter (1841-1914)

Moran, Thomas (1837-1926)
Morang, Alfred (1901-1958)
Motherwell, Robert (1915-1991)
Mullican, Lee (1919-1998)
Newhall, Beaumont, (1908-1993)
Nichols, Dale (1904-1995)
Nichols, Perry (1911-1992)
Nusbaum, Jesse L. (1887-1975)
O'Hara, Frederick (1904-1980)
O'Keeffe, Georgia (1887-1986)
Onderdonk, Julian (1882-1922)
O'Sullivan. Timothy (1840-1882)
Paap, Hans (1894-1966)
Parkhurst, T. Harmon (1883 - 1952)
Parsons, Sheldon (1866-1943)
Payne, Edgar (1883-1947)
Pennington, William M. (1874-1940)
Phillips, Bert G. (1868-1956)
Porter, Eliot (1901-1990)
Powell, Ace (1912-1978)
Prettyman, William S. (1858-1932)
Rauschenberg, Robert (1925-2008)
Redin, Carl (1892-1944)
Reed, Doel (1895-1985)
Reed, Marjorie J. (1915-1996)
Reed, Roland (1864-1934)
Reedy, Leonard (1899-1956)
Reiss, Winold (1886-1953)
Remington, Frederic (1861-1909)
Robak, Louis (1902-1979)
Rodell, Don (1932-2003)
Rollins, Warren (1861-1962)
Rolshoven, Julius (1858-1930)
Runtsch, Clarence F (1923-2010)
Ruscha, Ed (1937- )
Russell, Andrew J. (1830-1902)
Russell, Charles M. (1864-1926)
Salinas, Porfinio (1910-1973)
Sandzén, Birger (1871-1954)
Schwemberger, George C. "Simeon" (1867-1931)
Scriver, Bob (1914-1999)
Segerblom, Cliff (1916-1990)
Seltzer, O.C. (1877-1957)
Serra, Richard (1939- )
Shaffer, Martin (1913-1987)
Sharp, Joseph H. (1859-1953)
Shore, Stephen (1947- )
Singer, Bernice (Burr) (1912-1992)
Sloane, Eric (1905-1985)
Sloane, John (1871-1951)
Smith, Leon Polk (1906-1996)
Smithson, Robert (1938-1973)
Sommer, Frederic (1905-1999)
Soule, William S. (1828 - 1908)
Spruce, Everett Franklin (1908-2002)
Stefan, Ross (1934-1999)
Stieglitz, Alfred (1864-1946)
Still, Clyfford (1904-1980)
Strand, Paul (1890-1976)
Strand, Rebecca/Salsbury James (1891-1968)
Strang, Ray C. (1893-1957)
Strisik, Paul (1918-1998)
Stroh, Earl (1924-2005)
Swinnerton, James (1875-1974)
Tait, Agnes G. (1894-1981)
Thibault, Wayne (1920-2021)
Throssel, Richard (1882-1933)
Torrey, Elliot (1867-1949)
Turner, Ben (1912-1966)
Twombly, Cy (1928-2011)
van Dyke, Willard (1906-1986)
van Ryder, Jack (1898-1968)
Vickers, Russ (1923-1997)
Vierra, Carlos (1876-1937)
Villa, Hernando (1881-1952)
von Hassler, Carl (1887-1969)
Vroman, Adam C. (1856-1916)
Warhol, Andy (1928-1987)
Watkins, Carleton E. (1829-1916)
Webb, Todd (1905-2000)
Weston, Brett (1911-1993)
Weston, Edward (1886-1958)
Whorf, Richard (1906-1966)
Widforss, Gunnar Mauritz (1879-1934)
Wieghorst, Olaf C. (1899-1988)
Wilhelm Smith, Lillian (1882-1971)
Willis, Joseph R. (1876-1960)
Wilson, Charles Banks (1918-2013)
Winn, James Buchannan "Buck" (1905-1979)
Wittick, Ben (1845-1903)
Wolfe, Byron (1904-1973)

Zornes, Milford (1908-2008)
Specialties
American Indigenous Art
Art - American
Art - Spanish Colonial
Jewelry - Ethnic & Cultural
Wine
Services
Appraisal Review
Broker
Consultant
Divorce Settlements
Equitable Distribution
Estate Evaluations
Estate Tax
Expert Witness
Instructor
Insurance Claims
Non-Cash Charitable Donations
Speaker
Tax Deductible Gifts
Performs Appraisals Of
Alaskan Inuit Art
Alaskan Inuit Artifacts
American Indigenous Artifacts
Art - Latin American
Art - NW Coast Indigenous
Art - Pre-Columbian
Bronzes
Drawings
Paintings
Paintings - Latin American
Photography - 19th Century
Photography - 20th Century
Pottery
Prints
Sculpture - American
Sculpture - Latin American
Textiles
Watercolors - American
Website
https://swaa.com
https://southwestartappraisals.com
https://naaainc.com
https://southwestwineappraisals.com