Julia Henri, ISA AM, Fine Art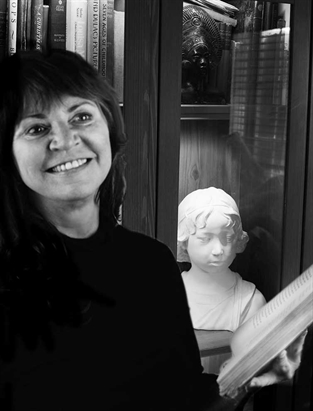 Contact
Julia Henri
ISA member since Jun 04, 2015

(740) 816-1975 (Mobile)
(540) 434-3939 (Office)

Jeffrey S. Evans & Associates
Post Office Box 2638
Harrisonburg, VA 22801 , United States map
---
Website
http://jeffreysevans.com

About
•••Department Head: Historic Costume, Textiles & Sewing. Jeffrey S. Evans & Associates.
•••Department Head: Appraising; USPAP compliant. Jeffrey S. Evans & Associates.
•••Appraising throughout the United States. Please inquire.
•••Appraising historic costume, textiles, and sewing. Glass. Fine art. Photographs. Antiquarian books. Illuminated Mss., Autographs, Maps, and Historic Documents
•••Specializing in accurate, well researched and documented appraisals with professional studio photographic images and scans if required. For instance, macro images of fiber, jewelry hallmarks or artists' signatures are available.
•••Able to track provenances and fact check data with a variety of experts in nearly every field.
•••If your needs are not obviously listed in my specialties, please inquire. Thank you for your consideration, and it will be a pleasure to hear from you.
•••2015 Foundation for Appraisal Education Award Recipient
•••Lecturer. Published Journalist and Photographer.
Memberships:
Member, International Society of Appraisers
Business Member, Costume Society of America, Columbus, GA
Professional Member, The Author's Guild, New York City, NY
Samples of Published Work at Website: www.juliahenri.com
Education: University of Cincinnati: College-Conservatory of Music: Violoncello and Piano Performance; Cincinnati, Ohio. University of Cincinnati: Journalism; Cincinnati, Ohio. Mount Ida College: Graphic Design, Business; Newton, Massachusetts. Massachusetts College of Art: Graphic Design & Illustration; Boston, Massachusetts. Continuing coursework at the University of California: Scientific Illustration; Santa Cruz, California. Interlochen School for the Arts: Computer Technology & Creative Writing; Interlochen, Michigan. Also on-going professional fine art coursework at important studios throughout the United States in Renaissance portraiture and figure studies, professional calligraphy, egg tempera, fresco, drawing, silverpoint, watercolor & gouache, pastel, oil painting and studio photography. Research and studies at Rare Mss. Dept. Bibliothèque Nationale, Paris, France.
Media: Staff Writer for The Boston Herald, Boston, Massachusetts. Freelance photographer for The Associated Press, Boston, Massachusetts. Intern for ABC News, Boston, Massachusetts. Freelance Journalist for Midcountry Media: Cover Feature Articles for Antique Week & Auction Exchange, Knightstown, Indiana. Feature writer for Michigan History Magazine, Lansing, Michigan. Freelance photographer for Getty Images.
Also: Business Owner, Appraiser & Consultant since 1990:
The Gilded Griffin: Antiques & Fine Art.
College Intern & Seller under George Goodspeed, Goodspeed's Bookshop at 7 Beacon Street, Boston, Massachusetts: Illuminated Manuscripts, Autographs & Mss., Americana, First Editions, Prints, Genealogy, & Heraldry.
Instructor: Pacific Art League, Palo Alto, California: Classical Renaissance illumination & egg tempera painting, drawing, watercolor & gouache techniques, pastel. Private Studio instructor: Boston, Massachusetts and Los Gatos, California. Instructor of Fine Arts for the City of Los Gatos, Los Gatos, California. Instructor, Washtenaw Community College, Ann Arbor, Michigan: Antiques & Collectibles Authentication, Identification & Appraising; Writing Historical Non-Fiction & Personal Narratives.
---
Specialties
Art
Photography & Photographs
Textiles
Services
Auction
Authentication
Consultant
Donations
Estate Evaluations
Instructor
Speaker
Performs Appraisals Of
Americana
Art
Books
Clothing & Accessories
Documents - Autographs
Photography & Photographs
Textiles
Victoriana