Peter L Karlan, M.S.L., ISA AM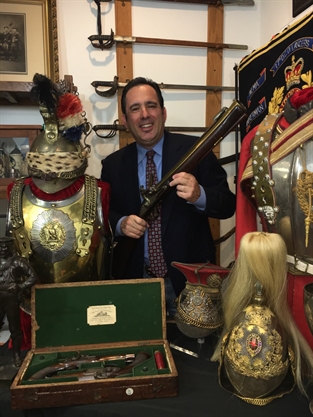 Contact
Peter L Karlan, M.S.L.
ISA member since Aug 20, 2018

(772) 708-0395 (Office)

I Travel Nationwide !!
Charlotte, NC

Charlotte, NC 28202 map
---
About
For over 35 years I have been dealing in the finest antique firearms, edged weapons and military antiques nationally and internationally. My interest includes items from the Revolutionary War, Civil War, Napoleonic Wars, WWI and WWII. I am also interested in items and artifacts from all nations, wars and conflicts including the British Imperial Military Campaigns. Some items include but are not limited to rifles, muskets, pistols & revolvers, cannon, swords, daggers, edged weapons, helmets, uniforms, medals, photographs, drums, flags, banners, armor, accouterments, military bronzes and art work. Please click my website link on the left lower corner of this page for a more comprehensive description at www.karlansarms.com.
I attend most major antique gun and military (militaria) tradeshows nationwide in order to keep up with market trends and current values. I have served as a consultant to museums and other institutions throughout the country and have been a commissioned buyer for the same. I am a former antique auction gallery manager and also have an extensive knowledge in the areas of general antiques, art, Americana, folk art, decorative arts, objects of virtue, furniture and collectibles.
I offer a compliment of services which includes consultation, evaluation and comprehensive estate services. I provide appraisal services which are USPAP and ISA compliant for estate, insurance and tax purposes. I have helped hundreds of customers throughout the years market and sell entire estates, single items, and heirlooms professionally and discreetly. I am able to thoroughly evaluate such items in order to determine the best possible markets and yield the best possible results.
Please contact me at your convenience in order to discuss your needs and determine how I might assist you. Thank you in advance for your consideration.
Very Repectfully,
Peter L. Karlan, M.S.L., ISA AM
Specialties
Arms & Armor
Arms & Armor - Firearms
Arms & Armor - Swords
Medals & Medallions
Militaria
Services
Auction
Broker
Consultant
Donations
Equitable Distribution
Estate Sales
Insurance Claims
Liquidator
Retail - Antique
Performs Appraisals Of
Americana
Arms & Armor
Arms & Armor - Firearms
Arms & Armor - Swords
Auction Company/Gallery
Bronzes
Collectibles
Medals & Medallions
Memorabilia - Advertising Items
Memorabilia - Transportation
Militaria
Nautical Items
Photography - 19th Century
Victoriana
Website