Congratulating ISA's 2020 Award Winners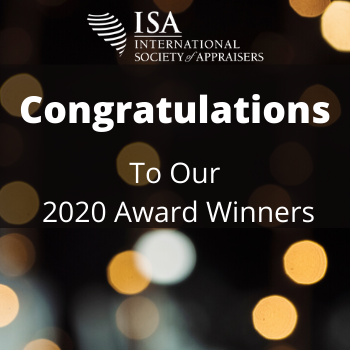 Wednesday, June 24, 2020 in News
Each year members of ISA are recognized for their accomplishments in service to ISA and the personal property appraising profession at the Assets awards luncheon. While this dedicated space and time will be missed this year, what will not be missed is the opportunity to recognize these deserving individuals and chapter. Please join ISA in thanking and congratulating our outstanding 2020 award recipients for their significant contributions and service to you and ISA.
Distinguished Service Award
Elizabeth Anastos Holmes, ISA AM
Both Elizabeth Anastos Holmes, ISA AM, and Dina Brown, ISA CAPP, are being recognized for the 2020 Distinguished Service award. Elizabeth and Dina are currently serving on ISA's Marketing Committee – with Elizabeth leading the committee as its chair and Dina serving as board liaison and an indispensable member of the marketing team. Together, they are forging a path for ISA into the 21st century. In November 2019, they launched ISA's new Instagram account. Working together, they are creating content that speaks to current members, prospective members, gatekeepers, users of appraisals, and the public. They are showcasing photos that demonstrate the type of property our members appraise, auction record breakers, as well as items with unique provenance or historical significance. Through this account, they have been able to promote the ISA brand, bring our members together, and highlight ISA's continuing education opportunities and events. As of June 9, the account has over 1,300 followers. This rapid growth speaks to the meaningful connections they are developing through the Instagram platform. It is incumbent upon ISA to recognize and cultivate the next generation of leaders. Elizabeth and Dina have volunteered their time, energy, and brainpower toward the betterment of ISA. There are no two more deserving recipients of ISA's Distinguished Service award than Elizabeth Anastos Holmes and Dina Brown.
Leadership Award
Perri Guthrie, ISA CAPP, is being recognized as a model for leadership in our society. Never one to seek accolades or recognition, her focus was to empower and engage our membership at all levels. Perri is skilled in encouraging collaboration and gifted in making every voice feel heard. Beyond her service as President, Perri played a primary role in reimagining and updating the 2016 Fine Art Course manual and has been active in Assets program planning, seeking top speakers in their fields. She has also been instrumental in developing multi-year opportunities for cooperation between ISA's Affinity Business Partners and ISA, strengthening those connections. It is Perri's modest, dedicated passion while serving as ISA President, elevating every task, endeavor, and improvement she took on to advance our organization to near perfection, that makes her worthy of recognition.
Rising Leader Award
Chantal Wilson-Mahaffey, ISA AM
Chantal Wilson-Mahaffey, ISA AM, is an extremely valuable member of the ISA Canadian Chapter's executive committee, serving as its treasurer for over two years. Chantal is responsible for setting up the Chapter's finances and record-keeping in a system that allows for payment options, easy reporting and clear accounting. She is in constant communication with members about their dues, helping to bolster retention numbers and ensure the cash-flow of the Canadian Chapter and ISA is up to date. Chantal is an active member of the Chapter's Advocacy Committee and always promotes the benefits of using qualified appraisers. She advocates on behalf of ISA and USPAP in her regular interactions with government agencies and in her position of Registrar at the Image Centre (a collecting museum) of Ryerson University. There, she deals with collectors, donors, institutions and government agencies on a regular basis where she ascertains that all appraisals intended for the Canadian Government's Cultural Properties Office or the Canada Revenue Agency are USPAP-compliant and contain justified value conclusions. Chantal also teaches Collection Management at the University, where she stresses the importance of qualified appraisals to future museum professionals. Chantal's influence and efforts are subtle and mostly unknown to the membership and yet she works tirelessly behind the scenes to benefit ISA.
Service Award
Anne Kelly Lewis, ISA AM, has selflessly given of her time and energy to the North Texas Chapter of ISA for the last three years; one as the VP, and two as the chapter board President. During her service to the board, she put in countless hours for its six annual meetings, holiday gatherings and a seminar held at Dallas Auction Gallery which focused on fine art prints and works on paper. At this same time, she held a post as board member on the FAE and had her first-born son in October 2018. She did all this without a single complaint, focusing her energies on bringing the best speakers to the 2018 seminar. Anne will surely continue to serve ISA and NTISA in a way which will benefit all of us in the profession. She is an incredible asset to ISA and a credit to our profession.
Chapter of the Year Award
The North Texas Chapter of ISA is an outstanding example of Chapter achievement. The Chapter meets six Tuesdays a year at Neiman Marcus in NorthPark, Dallas. Each meeting features a presentation given by specialists that range in topic from insurance adjusting to modern art to Mid-Century furniture. Membership of the Chapter is spread across four states representing a large geographical area. Members regularly contribute blog posts which share information about objects to members and non-members and which serve to educate the public about professional appraisal practices.
Distinguished Service: ISA Instructor Award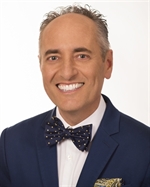 Tim Luke, ISA AM, goes above and beyond to make his educational presentations interesting, engaging and informative. His dedication to the appraisal profession and radiant and giving personality can make even a USPAP update into a fun event. Words such as relevant, fun, engaging and encouraging are words frequently used by his students to describe Tim's teaching. Tim has brought a new energy to USPAP that brings a smile to everyone's face. He's so knowledgeable, open to questions, and willing to help everyone learn and use USPAP to excel in their careers. He's a great sounding board for working through complex methodology, and he deeply cares about understanding why we do the things we do. Tim is a tremendous asset to the education team and ISA.
Outgoing Leadership and Service Award
While serving two terms on the ISA Board, Hughene Acheson, ISA AM, dedicated her energy, experience and connections with the art world to many different areas including finding speakers for Assets. For three years she worked on the Resource and Development Committee and helped forge new relationships for ISA with key industry stakeholders. As a Canadian, she advocated for the concerns of Canadian members and was responsible for the inclusion of a chapter on Canadian art history for the ISA Fine Art Manual. Hughene was involved in the development of the Circle of Trust with our sister organizations AAA and ASA which was the brainchild of former president Cindy Charleston-Rosenberg, ISA CAPP. She expanded the social media presence for ISA on Twitter and was Board liaison to the Fine Art Committee. In 2017 she was elected to the Executive Committee of ISA serving as Secretary until the end of her term in 2019. It was in this position that she continued to think 'outside the box' to bring fresh perspectives and new ideas. An independent thinker, Hughene participated in a variety of ways while on the Board which brought about discourse on all topics that directly impacted ISA and its members.
Monica Fidel, ISA CAPP, tackled her directorship with the same enthusiasm, humor and energy she always shows. She chose to use much of her two board terms taking on the task of increasing ISA's North American and International membership, working tirelessly by phone at all hours in hopes of expanding our member base or encouraging members in danger of lapsing. She was extremely diligent in reaching out to potential Asian members as well as potential members in the UK. Monica used these conversations to help the Board understand many of the needs particular to international membership. In January 2020 she spearheaded a project including an article published in the newsletter of the Society of London Art Dealers, Personal Property Valuations in the United States: An Introduction of the International Society of Appraisers. We are very fortunate that she will continue to work on this important aspect of International membership development as a valuable member of the Membership and Retention Committee.
Special Service Award
Michelle Suarez, CMP, DES
There are so many reasons why ISA's Meeting Manager, MCI's Michelle Suarez, CMP, DES, is deserving of a Special Service Award. Honoring Michelle is long overdue as she has been an integral part of our ISA team for over 10 years. She has, and continues to, work tirelessly behind the scenes, looking out for the overall welfare of our ISA community. Michelle is dedicated, thoughtful, organized and is always thinking one step ahead of the rest of us. She started with Sentergroup (now MCI) in June of 2009 as ISA's Meetings and Education Coordinator. As ISA grew, Michelle's responsibilities grew as well. With both experience and grace, Michelle implements our annual Assets conference from start to finish, and beyond. She handles all conference contracts and logistics, embracing each year's conference with its own set of unique challenges. Michelle also attends numerous ISA committee meetings to keep pace with and help orchestrate each evolving conference. Michelle's oversight and ownership of conference make the meeting's logistics look like a spa experience rather than a visit to the dentist. And those of us who have had the pleasure of working directly with Michelle appreciate her diligence in addressing each and every question or concern with equal attention and kindness.
President's Award
At the end of Perri Guthrie's presidency, if anyone had said she had done a great job, been a terrific president or had left big shoes to fill, she would have told them to stop being ridiculous. In typical Perri manner, she'd go on to list the accomplishments of other leaders to take the spotlight off herself. She is right, each person brings their own strengths to the position, but when faced with a problem, there's nothing like asking yourself "what would Perri do?" to solve it. It is her ability to appreciate diverse perspectives and interests, compare the information gathered and find collaborative solutions to problems that is her most admirable trait.
During her terms as an ISA board director she was instrumental in the development and implementation of ISA's strategic plan. Perri's talent for bringing members and MCI staff to the table to accomplish common goals led to the success of those projects, with many of the objectives being accomplished ahead of schedule.
Below are just some of the achievements of Perri's Presidency:
Worked closely with ISA's Director of Education and Michelle VanAlstyne to streamline ISA's credentialing processes.
Facilitated updates of all course offerings, including the release of ISA's new Core Course.
Approved FA and AF+DA online pathway courses to be released in 2020.
Encouraged new connoisseurship experiences as well as independent course work and online CAPP review.
Provided "Proctor U", an online testing platform for exams.
Supported and promoted ISA's new Student Affiliate Program.
Encouraged open communication with regularly scheduled collaborative meetings with ISA's Committee Chairs, Board Liaisons and staff members.
Launched the new ISA website.
Approved and supported the revision of ISA's Ethics Code, Bylaws and ISA Writing Standards.
Created multi-year opportunities with ISA's Affinity Business Partners.
Engaged Todd Sigety to re-brand his Advanced Appraisal Journal and partner with ISA.
Explored potential educational partnerships with the objective to continue to strengthen ISA's financial good health.
Perri Guthrie certainly deserves the recognition and gratitude of everyone in ISA and in particular of this president.
Foundation for Appraisal Education Award
Susan Sturdivant, PhD., ISA CAPP
Susan Sturdivant, PhD., ISA CAPP, is a current board member of the FAE and has contributed to further the cause of FAE through her work on the 2019 FAE Seminar. Susan has been a CAPP member of ISA since 2012 and an accredited member prior to that since 2003. She owns Highland Park Appraisals, LLC in Dallas where she specializes in the appraisal of art, antiques and residential content. She also owns Highland Park Estate Sales in which she handles the liquidation of art, antiques, collectibles and other household furnishings. She received her BA in comparative literature from Southern Methodist University, and her PhD in clinical psychology at the Fielding Institute in Santa Barbara, California.
Susan has been recognized by The Dallas Foundation for her advisory work in the organization and featured in the Advocate magazine in Dallas in an article on tricks of the trade in appraising. She has contributed to several professional papers and presentations including: Antiques Too, an antiques group in Dallas; featured twice in Accent by Chubb an online newsletter for collectors; she has been the guest lecturer for several groups including: The Dallas Woman's Forum; The American Needlepoint Guild Seminar and several appraisal events to name a few.
Susan is awarded the FAE award for her great contributions to the FAE educational seminar which took place in New Orleans in the fall of 2019. Susan coordinated a great line up of speakers on relevant content to the area which made the seminar unique and interesting. She developed marketing artwork and materials for the event and assisted with other behind-the-scenes details to make the event a success. She has also served as an FAE board member.
2020 iSA Life and Certified Members
Please also join me in congratulating our ISA Life and Certified designation 2020 recipients.
Members who have been awarded the ISA Life designation:
Valentina Arbab, ISA CAPP Life
Rudy M. Pena, ISA AM Life
Members who have achieved the Certified designation:
Dina Brown, ISA CAPP
Stephanie Daugherty, ISA CAPP
Lisa Duke, ISA CAPP
Candace Hill, ISA CAPP
Sue McGovern-Huffman, ISA CAPP
Susan Lahey, ISA CAPP
Carol Matesic, ISA CAPP
Special thanks are also due to ISA President Libby Holloway, ISA CAPP, for her help in honoring our award winners and to the ISA Awards committee members: Larissa Wild, ISA AM, and Bruce Treadway, ISA CAPP.
By Brittany Hyde, ISA AM, Awards Committee Chair