A Guide to Appraising Fine Art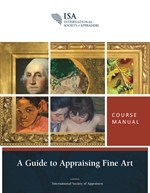 A Guide to Appraising Fine Art
$172.00
Shipping and handling included
Required for the ISA Appraisal of Fine Arts Course
The ISA Appraisal of Fine Art course was developed to provide basic knowledge for those appraisers who desired to specialize in the world of fine art – paintings, prints, sculpture, photography, frames, or works on paper. The text seeks to provide a concise yet fundamental history to predominantly western art in preparation for understand and valuing art in the marketplace. This text is a revision of the original done in 1997 and 2000.
*No returns or exchanges on hardcopy orders

Paperback, 504 pages. Revised in 2018.