Ask an Instructor: ISA Appraisal Report Examples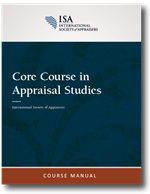 Monday, February 4, 2019 in Ask an Instructor
ISA members are invited to send in their questions on all things appraising and education to ISA's instructors. One of ISA's instructors will share answers on the ISA Now Blog. Please send questions to directorofeducation@isa-appraisers.org.
Question: Where can I find an example of an ISA appraisal report that I can review?
Answer: Look no further than your Core Course in Appraisal Studies manual. The current edition was updated in January 2018 and is available for purchase through the ISA website. The manual provides examples of Cover documents that you can modify according to the specifics of your appraisal assignment. The manual also provides sample descriptions for different types of objects that can be included in the Body of the report. Remember that no appraisal sample or template is one-size-fits-all. Don't let the template monster bite you! Check and double check to make sure every statement in your report is appropriate to your assignment.
- Meredith Meuwly, ISA CAPP
Director of Education
Tags