Application Requirements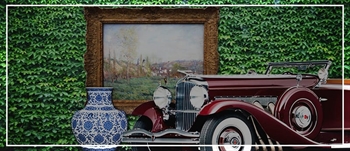 The ISA Private Client Services program is intended to educate ISA appraisers who wish to work with high-net-worth clients and their collections. Participants will learn best practices and how to work with the gatekeepers specializing in Private Client Services. While not a certification, after completion of the program, ISA appraisers can use the ISA Private Client Services affiliation to promote this service in their appraisal practices.
General Requirements
Complete the ISA Private Client Services seminar, Appraising in the World of High-Net-Worth Individuals, in person or as a recorded webinar
Be compliant with the most current USPAP and AQB regulations and standards
Have an ISA AM designation or above and be an ISA member in good standing
Member Level Requirements (choose one)
ISA CAPP member applicants must meet four of the twelve Private Client Services program acceptance requirements
ISA AM member applicants must apply for the CAPP program within three months and complete the CAPP process within one year in addition to meeting six of the twelve program acceptance requirements
ISA AM applicants must complete the ISA Advanced Appraisal Methodology Course within one year and meet eight of the twelve program Acceptance Requirements
Acceptance Requirements
Has been appraising at the ISA AM level or above for a minimum of five years.
Has worked consistently with HNWI commercial clients such as financial planners, estate attorneys, banks, institutions, museums, lenders, etc.
Published professional papers in a specialty area, connoisseurship, or appraising theory and methodology.
Made five professional presentations over the past five years.
Valued over $1 million (collectively) annually for the past three years in fine art or $500,000 in decorative arts.
Completed advanced appraisal course work such as Expert Witness class, ISA Japanese Prints, or Modernism. Representative qualifying courses must be at least eight-hour programs. Course acceptance will be based upon a committee review.
Have completed a Winterthur Institute Program, MESDA Institute program, or another Fine Art or Decorative Arts program. Other recognized certificate programs on connoisseurship may be accepted based upon application committee review.
Obtained a Sotheby's Master's Degree, Christie's Master's Degree, Smithsonian Decorative Arts Degree, a Winterthur/University of Delaware Material Culture degree, or equivalent degree.
Obtained a Masters of Fine or Decorative Arts from an accredited college or university.
Served as an an ISA Committee Chair and/or ISA Board of Directors member.
Have attended three out of five recent past ISA conferences.
Have instructed classes on Fine Art, Decorative Arts, or appraising methodology, for a minimum of eight class hours.