Duncan S. McLaren, ISA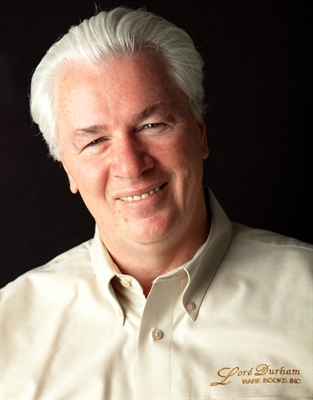 Contact
Duncan S. McLaren
ISA member since Mar 20, 2012

(905) 680-8115 (Mobile)

PH9 - 7 Gale Cres.
St. Catharines, ON L2R 7M8 , Canada map
About
Background:
Duncan business career and experience is based on two separate industries. The first is in the Marketing and Promotion Agency business. After a number of years working in various sales positions and concluding with being President, Duncan started his own Marketing and Promotion Agency in Toronto in 1989 and worked with many national clients such as Nabisco (Christie Brown division), Maple Leaf Meats, Canada Bread, Swanson, Dr. Oteker (Ristorante pizza). During this period Duncan started to collect Rare Books for many years and gained tremendous insight and understanding of this business. In 2008 Duncan started up Lord Durham Rare Books Inc. to sell Rare books, Maps, Prints, Manuscripts, Photographs. The statement "Helping collectors collect"® trademark was registered in Canada and USA. LDRB is a member of ISA, CAAPG,


LDRB is set-up as three separate and distinct services:

1) Lord Durham Appraisal Service:

LDRB APPRAISAL SERVICE:
Having acquired membership in the International Society of Appraisers (ISA),and in 2011, membership in the Canadian Personal Properties Appraisers Group (CPPAG), I am qualified to provide professional appraisals. Utilizing my professional training and the Uniform Standards of Professional Appraisal Practice (USPAP), and the ISA Report Writing Standard and Code of Ethics, I will appraise single books and entire collections. This service is available to Libraries, Private collectors and Institutional collectors. Appraisal services include reports for insurance coverage, damage and loss claims, charitable or cultural property donation, estate planning and division of assets, purchase or sales advice, determination of probate fees or capital gains tax, bankruptcy, divorce or partnership dissolution.
.
Duncan's 25 years collector experience, combined with his retail and consulting experience offers a practical side to the appraisal service client's greatly benefit by. Our appraisal client's testimonial include;
Institutional appraisal client: "Thank you for your appraisals. I find them to be very detailed and fair. We appreciate your professionalism and commitment. " David Sharron, Brock University
Private collector appraisal client: "Duncan provided not just financial values but also professional research and interesting background information on them. " R. R. Williamson. St. Catharines.

2) Lord Durham Search or Collections Assistance service:
This is a fee or commission based service encompassing the "circle of collecting" life. Starting with helping you to begin a collection or library followed by filling in gaps with specific identified item(s) and then identifying and suggesting items of high potential interest not on your wants list, and finally assisting with the downsizing or disposing of one, some or all of your collection. I refer to this as "Helping Collectors Collect". Whether you are a private collector, or an institution such as a University Special Collections Library or Public Library I am able to help you with one or all of these services. Call Duncan at 905.680.8115 or email at duncan@LDRB.ca to discuss your collecting issues and interests.


3) Lord Durham Rare Books Retail:
We buy & sell antiquarian books, maps, prints, manuscripts, ephemera, photos and fine art. In order to perform a search, please go to the top left of this page , or to the advanced search, and then key in the item in which you are interested in finding then hit go or search, and you will discover the items presently available in our online inventory. Since February 2008, LDRB has been a member of Independent Online Booksellers Association (IOBA), an international trade organization for internet booksellers.
Duncan is constantly looking to improve his knowledge, learning and relationships to provide the highest stands possible standards of service in the three areas of noted above. As such, in addition to specific industry associations, LDRB is a member of these other professional associations:
The International Map Collectors' Society (IMCoS)
Ephemera Society of America
American Historical Print Collectors Society
The Manuscript Society
Universal Autograph Collectors Club (UACC)
The Bookplate Society UK
The Alcuin Society Canada
The Ottawa Book Collectors
---
Specialties
Books
Collectibles - Paper
Documents - Maps
Engraving & Etching
Prints - 19th Century
Performs Appraisals Of
Books
Collectibles - Paper
Documents
Documents - Maps
Ephemera
Prints - 19th Century
Prints - 20th Century