Vanessa M. Elmore, ISA AM, Specialty Studies: American Indian Art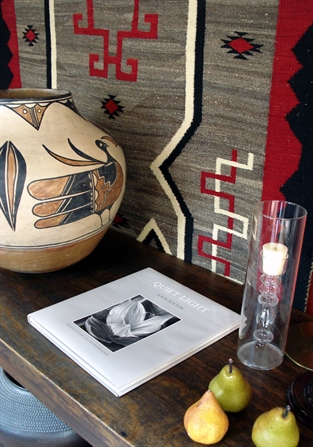 Contact
Vanessa M. Elmore
ISA member since Feb 07, 2014

(505) 231-9367 (Mobile)

Camino San Patricio
Santa Fe, NM 87501 map
---
About
For 18 years, Vanessa Elmore has been steeped in the biggest market venue for American Indian Art in the world—Santa Fe, New Mexico, which also happens to be the third largest art market in the United States. As a professional Art Gallerist for two of the top American Indian Art galleries (Morning Star Gallery, focused on antiques; and Blue Rain Gallery, representing contemporary), Elmore has handled countless important works of art and connected them to innumerable collectors at all levels, including individuals, museums, and corporations. She has a wide knowledge base of American Indian material culture and employs specific processes for the identification and authentication of objects; she is especially adept at performing in-depth research and writing for individual works and collections. Her Master of Arts graduate degree should also suggest that Elmore uses scholarly rigor when creating documentation and approaches artwork armed with the most progressive, up-to-date information on the topic. She is particularly experienced at making market analyses specific to the nuances of American Indian Art and to bolster her opinions, experience, and knowledge base, she maintains expert contacts across the spectrum of the American Indian Art world.
Elmore Art Appraisals provides appraisal and consulting services for American Indian Art of North America.
*All time periods covered: Prehistoric, Historic, and Contemporary.
*All cultural regions of North America covered: Northeast/Woodlands, Southeast, Great Lakes, Prairie, Plains, Plateau/Great Basin, Southwest, California, Northwest Coast, Interior Canada, and Alaska.
*All artwork and material culture covered: Baskets, Beadwork, Clothing & Accessories, Dolls & Toys, Glass, Jewelry (shell, stone, silver, & gold), Katsinam, Ledger drawings, Mixed media, Paintings, Pottery, Sculpture (stone, wood, bronze, & ceramic), Textiles, and Works on paper.
________________________________

Education

2006 - Master of Arts, Art History
(Specialization: Art of the Americas)
University of New Mexico, Albuquerque, New Mexico

1998 - Bachelor of Arts, Anthropology & Art
(both Art History & Studio Art tracts)
Colby College, Waterville, Maine

______________________________________
Professional Background

2014 - Present Elmore Art Appraisals, Appraiser
-Providing art appraisal & consultation
services focused on American Indian Art.

2011 - 2015 Blue Rain Gallery, Art Consultant
-Contemporary American & American
Indian Fine Arts

2000 - 2011 Morning Star Gallery, Assistant Director
-Antique American Indian, American, &
Spanish Colonial Fine Arts

1998 - 2000 Morning Star Gallery, Sales/Research
Associate
-Antique American Indian, American, &
Spanish Colonial Fine Arts

______________________________________
Advisory Roles
2016 - Present Antique Tribal Arts Dealers Association
(ATADA), Legal Committee Member
2010 - Present Southwestern Association of American
Indian Arts (SWAIA): Indian Market
-Various appointments of Juror/Judge, and
prior service on the Standards Committee
-SWAIA is the nonprofit organization
responsible for the annual Indian Market
(established in 1922).

2013 - 2014 Ralph T. Coe Foundation,
-Advisory Committee, founding member
-Non-profit, open resource collection
focused on Tribal Arts.

______________________________________
*Fluent, Native Spanish speaker
*Available for Lectures & Speaking Engagements
*Extensive Writing and Editing Experience; Published Writer
*Expertise has been featured in both print and film media
Specialties
American Indian Art
American Indian Artifacts
Art - American
Art - NW Coast Indian
Art - Spanish Colonial
Services
Authentication
Consultant
Instructor
Non-Cash Charitable Donations
Speaker
Performs Appraisals Of
American Indian Art
American Indian Artifacts
Art - American
Art - NW Coast Indian
Art - Spanish Colonial