Sign in and save.
You are not logged in and will be registered at the non-member rate. To receive member pricing, you must sign in to your account.
Requalification Course (Live Online February 2018)
Feb
20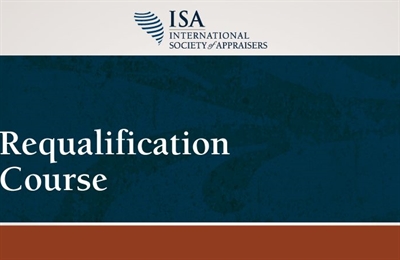 Course Details
Date
Tuesday, February 20, 2018 to Thursday, February 22, 2018
Time
12:00 PM - 05:00 PM
Location

For registration information please contact:




ISA Education Coordinator




jrossberger@thesentergroup.com


Get directions
Fees

Members

$550.00 before February 07, 2018

Contact
Julie Rossberger
jrossberger@thesentergroup.com
Register
Register now
Description
Register now for a review and update of ISA's Appraisal Standards covering significant recent changes, including those in the ISA Core Course Manual, the IRS, and the insurance industry. The class is a requirement for requalification and provides current guidelines, checklists, and forms helpful for every member. No exam is given.
Pre-Course Assignments:
1. Purchase the Core Course Manual (available in print and electronic available here: http://www.isa-appraisers.org/education/course-materials) and 2018-2019 USPAP Manual (available in print and electronic available here: https://www.appraisalfoundation.org/imis/itemDetail?iProductCode=355&Category=PUB)
2. Review entire Core Course manual, specifically chapters: 1, 12, 21 and 22. It is strongly suggested that you purchase the new Core Course manual as it has changed significantly in recent years and undergoes a revision every two years. The 2018-2019 edition will be available for purchase in January 2018. The instructor will be using the 2018-2019 edition.
3. For this course, you are required to prepare a complete appraisal report done for a Federal function (donation, estate, gift) on three items. Please email your complete report to the course instructor by Tuesday, February 13th. Please also have a digital copy of this report ready for review on the first day of the course. You will exchange your report with another student on the first night as part of a class assignment.
To complete the Requalification process, you will need to:
1. Have a current USPAP on file with ISA
2. Submit the completed Requalification Packet within 45 days of completing the course.
** Please note that all students are required to have either a built-in microphone, headset with microphone or webcam to use while attending the course. Students will be called on to actively participate, answer questions and read from the text.
The live Online Requalification Course takes place from 12:00pm - 5:00pm CST on February 20-22, 2018.
*Refunds, minus an administrative fee of $100 will be issued on written cancellations or transfer requests received on or before February 6, 2018. Phone cancellations WILL NOT be accepted. Registrants assume full responsibility for notification to and verification of receipt by ISA.
Refunds or credits will not be given for failure to attend, late arrival, flight/transportation cancellations, unattended events or early departure. In the rare event of a course cancellation, ISA is not responsible for nor will provide refunds for costs associated with travel, airfare, hotel or transportation costs incurred by the registered attendee. It is always recommended that the registrant considering purchasing independent travel insurance.*
---