Appraisal of Fine Arts Course (Live Online)
Jul
26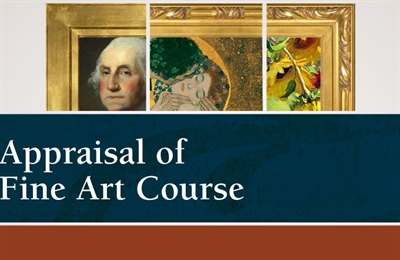 Course Details
Date
Monday, July 26, 2021 to Saturday, July 31, 2021
Time
08:00 AM - 05:00 PM (Central)
Location

Live Online


Get directions
Fees

Members

$1,400.00 before July 18, 2021

Non-members

$1,400.00

Contact
Sami Baron
Sami.Baron@mci-group.com
Tags

Register
Register now
Description
The Appraisal of Fine Art course emphasizes the primary categories of fine art frequently encountered by appraisers and dealers: paintings, sculpture, works on paper, frames, and photography.
Course participants will learn how to:
identify, research, and evaluate various forms of art work;
distinguish various print processes;
properly describe art works using the correct vocabulary;
and receive an overview of art history and art conservation.
For the first time ever, ISA is now offering the Appraisal of Fine Arts Course, Live Online. The Core Course is 6 days (July 26-31, 2021), from 8:00 a.m. to 5:00 p.m CST, Monday-Friday, with the exam given on Saturday. Students need to be present online throughout the entire course in order to receive credit. The exam will be given remotely on the final day of the course, administered through ProctorU.
---