Registration for this event is limited to ISA members.
Sign in and save.
You are not logged in and will be registered at the non-member rate. To receive member pricing, you must sign in to your account.
ISA Private Client Services Diminution of Value Webinar Series
OD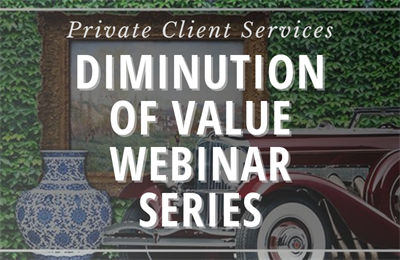 Course Details
Description
ISA Private Client Services is excited to announce its Diminution of Value Webinar Series. The goal is for participating appraisers to learn what the insurance industry needs and expects from an assignment involving loss of value. If you are looking to expand your appraisal practice, particularly to high net worth individuals – this series is designed for you. Diminution of Value (DoV) is a type of valuation frequently requested yet can be unclear to navigate for many working in the appraisal field. One challenge is how to communicate better with these industry gatekeepers. The series will help you learn how to foster a stronger relationship and create potential for future business opportunities.
Learn how to enhance and expand your professional services today. This series is offered online only and open to all ISA members who are interested in learning how to improve their services for the valuation of loss and damage claims. After purchasing the educational package through the ISA website, you will gain access to all the modules to watch on demand at your own pace.
This is a self-paced 4-part webinar series exclusive to ISA members only.
---