2023 Gems & Jewelry Symposium (Virtual Webinar)
Date: October 13, 2023
Time: 5-hour Gems & Jewelry Symposium (Virtual Webinar)
Begins at 12:00pm (EDT) / 11:00am (CDT) and ends at 5:00pm (EDT) / 4:00pm (CDT)
Course: $175.00 (USD)
Course Credits: 5 PDCs
"Beam me up, Scotty." What if you could go around the world in a day meeting the best and most knowledgeable people in gemology? The ISA 2023 Gems & Jewelry Symposium gives you that opportunity. The Gems & Jewelry symposium promises to be one of the best, most informative experiences in the Gems & Jewelry field this year. Don't miss this once in a lifetime experience to interact with some of the world's most renowned experts.
"Scotty" may not be able to send you all over from the Enterprise, but you can activate your Zoom mode on Friday, October 13 to do it all in a single day. Here is our amazing line-up of Gems & Jewelry experts for the ISA 2023 Gems & Jewelry Symposium.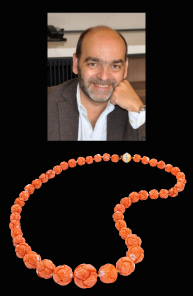 Speaker: Rui Galopim de Carvalho FGA, DGA
Session Title: Understanding Precious Corals
Session Begins: 12:00pm (EDT) / 11:00am (CDT)
Precious corals have been used by mankind since pre-historic times and still hold an important status in many cultures and geographies. As a biogenic gem material that is collected in the wild, sustainability concerns have been raised and have been addressed by the jewelry industry notably by CIBJO, The World Jewelry Confederation, on its Coral Commission under the leadership of Enzo Liverino. The nomenclature and clarifications that will be covered in this talk are a result of the work of the Coral Commission over the past decade.
Biography
Rui Galopim de Carvalho FGA DGA is a Gem Education Consultant, author and international lecturer on gemology and the history of gem materials. As a Portuguese national, Rui has a particular interest in Portuguese jewelry of cultural heritage and has recently studied the gemstones in the Portuguese crown jewels for the new royal treasury museum in Palácio Nacional da Ajuda. The founder of the popular Home Gemology webinar series launched during the COVID-19 lockdown, Rui is also editor of the educational account @portugalgemas on Instagram and shares gemological content actively across social media. He is associate editor of Gem-A's Journal of Gemology, Vice-President of Sector A and of the Coral Commission of CIBJO (The World Jewelry Confederation), ambassador of LAUREL (ECCIA member) and consultant of National collections, namely the Museu Nacional de Arte Antiga and the new Museu do Tesouro Real at the Palácio Nacional de Ajuda.
---
Speaker: Helen Molesworth
Session Title: The Gemstone Market: A Historical Perspective
Session Begins: 1:00PM (EDT) / 12:00pm (CDT)
The jewelry industry and gem markets have seen great change and development in recent years. Markets have experienced both growth and fluctuation on a massive scale. New world records are set and then broken, and sales results are constantly discussed, but often without a larger context. Much of our price and value knowledge comes from modern, living memory, but what do we know about gem pricing in the recent and even distant past? How have we got to where we are today, compared with a hundred, or more, years ago, and how has our concept of prices and value changed? And furthermore, can this help indicate where we are going? Helen will address the importance of history, historical examples and models, and investigate shifts in the gem market from the perspective of the bigger picture.
Biography
Helen has a broad commercial, international and academic background in the gem and jewelry industry. For nearly 25 years she has worked with the trade, gemological laboratories, museums, and auction houses across Europe and Asia. She spent ten years as a jewelry specialist for Sotheby's and Christie's in London, where she handled and ran sales of global importance including the private jewelry collection of HRH The Princess Margaret in 2006. She has since held roles as Professeur d'Histoire du Bijoux at the Geneva University of Art and Design, Managing Director at the house of Gübelin, and is now Head of Jewelry at the Victoria and Albert Museum in London.
Helen has a degree in Classics from Christ Church, Oxford, is a Fellow of the Gemmological Association of Great Britain, a Fellow of the Society of Antiquaries in London, and has published and lectured widely on gems and jewelry. Her forthcoming book Precious, a personal insight into the history of gemstones, will be published with Penguin in Spring 2024.
---
Speaker: Julia Griffith, FGA DGA EG
Session Title: Laboratory-Grown Diamonds: The 7-Step Guide to Identification
Session Begins: 2:00PM (EDT) / 1:00pm (CDT)
Testing for laboratory-grown diamonds will be explained by Julia Griffith, the UK's renowned specialist in the field. This presentation introduces Julia's 7-step guide to identification - a logical system she developed and teaches in her renowned one-day practical workshops. Starting with simple observations through to more complex testing techniques - this guide offers a structure to follow to ensure the best chance of identifying these often difficult to identify stones.
Biography
Julia Griffith, FGA DGA EG is a well-known gemmologist and educator within the jewelry industry. Specializing in laboratory-grown diamonds, Julia shares her research and knowledge regarding production and identification. Known for her engaging teaching style, Julia neatly packages complex information into entertaining presentations for you to enjoy.
---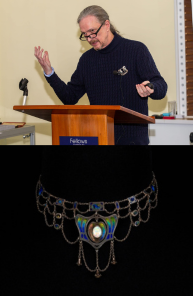 Speaker: Craig O'Donnell
Session Title: Arts and Crafts Jewelry in Central England
Session Begins: 3:00PM (EDT) / 2:00pm (CDT)
An enlightening, and (hopefully) entertaining talk on the Arts and Crafts movement in the Midlands with emphasis on jewelry and designer makers. Also, how the movement differs from the art nouveau style which flourished at the same time but was less accepted in Britain. The influence of the Guilds and Jewelry Schools and their legacy on jewelry design into the 21st Century. The popular gemstones utilized, and types of jewelry and styles used.
Biography:
Craig has been a full-time jewelry appraiser at the Birmingham Assay Office for the last 21 years. He is also responsible for curating the office's silver collection and is a regular on the jewelry talk circuit giving talks on Hallmarking, the Assay Office, Arts and Crafts jewelry and silver, silver spoons as well as vintage jewelry catalogues. He is currently Chairman of the Midlands branch of the Gemological Association and has a personal library in excess of 3,000 jewelry, silver and gemstone books.
---
Speaker: Kym Hughes
Session Title: The World of Australian Opal
Session Begins: 4:00PM (EDT) / 3:00pm (CDT)
Learn what to take into consideration when valuing opal. Identification and description of different opal types from the 3 major fields in Australia. How to grade natural opal and how to identify treatments, and synthetics. Knowing how to correctly grade natural opal, as well as identify various treatments and synthetics is a key requirement for many valuers.
Biography:
With over 35 years' jewelry trade experience Kym has an extensive resume that boasts an array of qualifications. She holds both a British and Australian diploma in gemology, a diploma in diamond technology, a certificate in diamond grading from HRD Antwerp, holds a Diploma of Applied Gemology (valuation) in jewelry and gemstone valuations and consistently updates her skills with new technology courses as outlined by the NCJV requirements. Kym's industry recognition is exceptional and is the President of the National Council of Jewelry Valuers (NCJV), past President of Queensland Gemological Association and past Federal President and Director of Gemological Association of Australia.
Current CEO of Valued Education Pty Ltd t/a NCJV-EDU the registered training organization for the NCJV and the head trainer and assessor.
Owner of Symmetry Jewelry Valuation specialist running her own business as a jewelry valuer since 1998.