Pre- and Post-Conference Courses at Assets 2020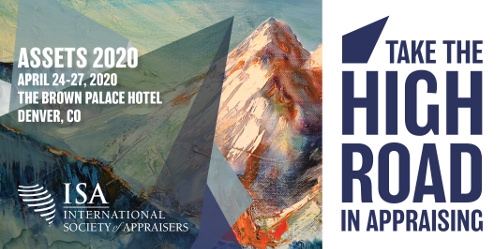 Tuesday, February 25, 2020 in Conference
Along with the fabulous presentations and panels that Assets 2020 will present, ISA is also hosting an additional three courses for appraisers to take advantage of while in Denver.
Registration for these additional courses is separate from your meeting registration, so use the links below to sign up for the courses you'd like to attend.
On Thursday, April 23, a new Print Identification Course taught by Meredith Meuwly, ISA CAPP will be held at the Brown Palace Hotel with a special field trip planned to visit Hindman for a hands-on experience. We are pleased to say that the course is now SOLD OUT! Thank you to everyone for your support of this new short course. Because of the significant interest in the topic, we will explore options for hosting this course again.
On Monday, April 27, ISA's own Steve Roach, JD, ISA CAPP will be your guide through the 7 Hour Personal Property USPAP update course for the 2020-2021 edition. This is the required update for all personal property appraisers seeking to fulfill their two-year requalification process. You must have previously taken the 15 Hour course. Steve will review the changes to USPAP Definitions, Rules, Standards, and Advisory Opinions; followed by a discussion of how to apply USPAP to situations that appraisers commonly encounter. Regarding Steve's latest 7 Hour USPAP course in Dallas, one long time ISA appraiser wrote, "That was the best USPAP course I have ever taken." So true, as Steve makes USPAP fun!
Register for 7-Hour USPAP at Assets
On Tuesday and Wednesday, April 28 and 29, ISA's Requalification Course will be taught by appraisal methodology instructor Michael Logan, ISA CAPP. To be completed every five years by all ISA membership levels, the Requalification Course offers a review of ISA's Appraisal Report Writing Standard, covering significant changes to the ISA Core Course Manual, IRS regulations, and insurance industry standards. Class discussion will focus on report writing skills, best practices for approaching different kinds of appraisal assignments, and the ISA Code of Ethics. Mickey's ability to explain appraisal concepts and apply them to everyday situations is lauded by his students. Don't miss this opportunity to share and gain tips and tricks from fellow appraisers on advancing your appraisal practice. ISA trains the best personal property appraisers, and it all starts with a strong foundation in appraisal methodology!
Register for Requalification Course at Assets
See you in Denver!
- Meredith Meuwly, ISA CAPP
ISA Director of Education
Tags