Updated Report Checklist and Core Course Manual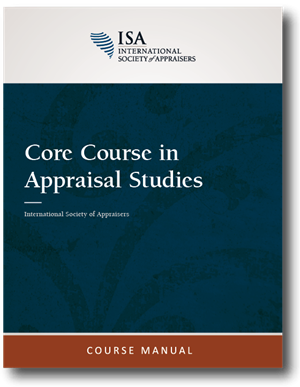 Monday, February 3, 2020 in Education
The Education team and I have updated the ISA Report Checklist and the Core Course Manual for 2020. The new manual is now available for purchase on the ISA website in digital and print format. The Core Course Manual includes updates coinciding with the 2020-2021 USPAP cycle and additional information throughout the chapters, including clarifications and sample language to use in your reports.
Download the 2020 ISA Report Checklist (Member Login Required)
This 2020 Checklist has a few updates to clarify what information is necessary for your reports to be written to the current ISA Appraisal Report Writing Standard. We do realize the that the ISA Appraisal Report Writing Standard is very comprehensive and exceeds that of USPAP standards. As the largest professional personal property appraisal association, our members are the most highly trained and rigorously tested. We are proud that we hold ourselves to the highest standards.
A few of the important updates on the 2020 ISA Report Checklist include:
(#13) Statement that the report is either a Restricted Appraisal Report or an Appraisal Report. This checklist item was updated to include the new USPAP 2020-2021 provision that allows Restricted Appraisal Reports to have more than one intended user if any intended user other than the client is identified specifically by name and not by type.
(#15) We emphasized that appraisers must explain the unused approaches to value and specifically state why each was not used. USPAP Standards Rule 8-2-a-x-2 reads, "stating the reasons for excluding the sales comparison, cost, or income approach(es) if any have not been developed." Thus, emphasis is placed on stating why each approach was not used in your report.
(#37) Statement as to the terms of any agreement between the donor and institution relating to the use, sale, and other disposition of the donated property. This checklist item is required only for U.S. appraisals for non-cash charitable contribution. It is taken from IRS Publication 561 p. 10 – Information included in qualified appraisal. If your client's donation is free and clear without restrictions, then that is great and you can note as such in your report. If your client's donation comes with any restriction(s) (e.g. institution must hold for three years; institution can never sell it; institution must always have it on display, etc.), then the restriction(s) need(s) to be noted in your report, as well as a discussion on how this restriction or encumbrance might affect the fair market value of the appraised property.
(#40) The "Appraiser Declaration" statement below comes directly from the 2018 IRS Final Regulations (T.D. 9836), which enacted the provisions under the American Jobs Creation Act of 2004 and the Pension Protection Act of 2006. It is required for U.S. non-cash charitable contributions and expands some of the language we have already been using for our "Qualified Appraiser" statement (#39): "I understand that my appraisal will be used in connection with a return or claim for refund. I also understand that, if there is a substantial or gross valuation misstatement of the value of the property claimed on the return or claim for refund that is based on my appraisal, I may be subject to a penalty under section 6695A of the Internal Revenue Code, as well as other applicable penalties. I affirm that I have not been at any time in the three-year period ending on the date of the appraisal barred from presenting evidence or testimony before the Department of the Treasury or the Internal Revenue Service pursuant to 31 U.S.C. section 330(c)."
Other minor clerical edits for consistency and clarity.
Please do not hesitate to contact me or one of your instructors if you should have any questions regarding the new checklist.
I hope to see everyone at Assets in Denver, Colorado, April 24-27. You won't want to miss it.
Meredith Meuwly, ISA CAPP
ISA Director of Education
Tags