The Pinnacle of Tour Experiences: Specialty Tours at Assets 2020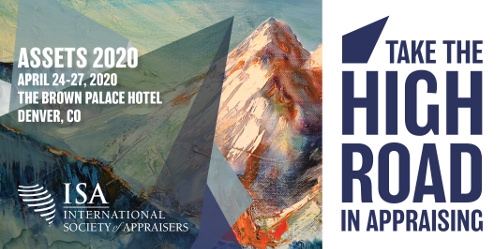 Wednesday, December 18, 2019 in Conference
Blog post author Larissa Wild, ISA AM
Join us on the high road for the pinnacle of tour experiences!
On Friday, April 24 at ISA's Annual Conference, Assets, attendees can sign up for the Antiques, Furnishings + Decorative Arts Specialty Tour or the Fine Art Specialty Tour. Both tours will visit world class museums, private residences of collectors, and other points of interest around Denver, Colorado and include transportation and lunch at the award-winning restaurant Avelina.
Haven't registered for Assets yet? Sign up now, and be sure to add one of our specialty tours to your conference registration.
Antiques, Furnishings + Decorative Arts Tour
The tour's first stop will be at Red House, which contains an incredible private collection of Costa Rican pre-Columbian art and Spanish colonial art from Mexico. It is also an architectural masterpiece that was custom designed to house the objects it contains.
Next, Eron of Eron Johnson Antiques will share his passion and enthusiasm for finding unique antique objects which he sells at his Denver shop and on his websites, including 1stDibs.
In the afternoon, attendees will see a wonderful visual progression of every major design period from Arts & Crafts through Postmodern at the Kirkland Museum of Fine & Decorative Art, which has about 4,400 works on view.

Teapot (1930) by Grete Marks, from the Kirkland's Bauhaus collection. Source.
The tour's final stop will be at Azari Rug Gallery, which has an incredible inventory of antique to contemporary handmade rugs in Persian, Oriental and Navajo styles. Mr. Azari will share his knowledge about the history, culture, differences and different techniques used to create these woven works of art.
Fine Art Tour
The day will begin at the special exhibit "Natural Forces: Winslow Homer and Frederic Remington" with a tour led by Thomas Brent Smith, Curator of Western American Art at the Denver Art Museum and Director of the Petrie Institute of Western American Art. Not your usual docent-led experience!

West Point, Prout's Neck by Winslow Homer. Source.
At the conservation department of the Denver Art Museum, you will get a behind-the-scenes view of conservators in action. How to identify when works have been restored, condition issues and the rating system, and how to understand when a piece is stable are some of the topics that will be addressed.
After that, Juliette Gould, daughter of renowned photographer and collector Hal Gould will guide us through the Colorado Photographic Arts Center. Her presentation will explore some of the most important photographs of the late 19th and 20th centuries.
Next, Clyfford Still Museum Director Dean Sobel will guide attendees through the collection, which houses 95% of Still's total output, making this collection the most intact body of work by any major artist from any century.
On the tour's final stop, attendees will also have the opportunity to tour the residence of Sharon and Lanny Martin. The Martins' private collection features post-World War II art. Some of the artists whose works are displayed include Calder, Stella, Warhol and de Kooning.
Book now to secure your spot on these fabulous tours!
by Larissa Wild, ISA AM, chair of the ISA Fine Arts committee
Tags