Meet Up in Denver for Assets 2020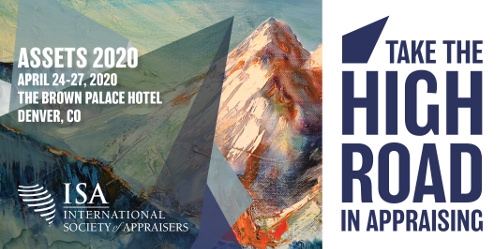 Thursday, November 14, 2019 in Conference
Lisa Duke, ISA CAPP
Help your skills soar and travel to Denver for Assets 2020 from April 24 to 27! The conference will be held in the Mile High City at The Brown Palace, Denver's iconic, classic, and historic hotel in the heart of downtown. You can visit the Denver Art Museum, the American Museum of Western Art, the Clifford Still Museum, the Kirkland Museum of Fine and Decorative Art, the Denver Botanic Gardens, Coors Field and many other impressive venues, all in close proximity to the Brown Palace. Denver has over seventy art galleries where local, national and international artists promote their work. There is a wide assortment of restaurants to choose from, and it's a haven for beer lovers with its large concentration of craft breweries.
As the conference theme states, "Take the (Mile) High Road in Appraising." Assets 2020 has developed a comprehensive educational program to expand your knowledge and skills and provide resources you can utilize easily after the conference is over.
These are just a few of the experts presenting at ISA's conference this year:
Alyssa Quinlan, Senior Vice President of Hindman Group will share trends seen in the auction market.
Timothy Standring, curator of Painting and Sculpture at the Denver Art Museum will present on techniques and the type of paper artists used from 1500s to 1900s.
The difference between lifetime and posthumous bronze casts will be presented by Sharon Hecker, PhD, who created The Hecker Standard.
A panel consisting of insurance specialists and an attorney will share the importance of protecting your appraisal business.
Rebecca Lockwood, Vice President of the Fiduciary Client Group at Sotheby's, will share her expertise on providing appraisals for collection management and the sale of many important collections.
Back by popular demand, ISA Director of Education Meredith Meuwly, ISA CAPP, will lead a panel discussion of ISA instructors discussing pertinent methodology questions from members.
View the full program of our outstanding speakers and topics.
Please register now for pre-conference tours, Assets 2020, and make your reservations at The Brown Palace. When you sign up before December 6, you can save up to $150 with Early Bird pricing!
Lisa Duke, ISA CAPP, is chair of the 2020 Annual Conference Committee. She lives in Colorado and owns LwDuke Appraisals.
Tags