Y'all Come… to Louisville, Kentucky and Assets 2019!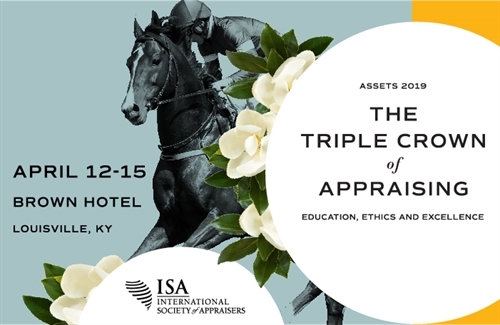 Wednesday, December 19, 2018 in Conference
By Libby Holloway, ISA CAPP, Assets 2019 Chairperson
Beautiful Louisville, Kentucky is considered a Southern city but has a definite Midwestern flair with its location along the Ohio River. Once a main junction of rail and water travel between the east and west, the city remains an easily accessible hub for travelers. Louisville is known for hospitality and is ready to welcome ISA members and friends for an exciting week of courses, tours, conference speakers, and the fabulous FAE auction at Assets 2019, April 12-15.
Louisville has a history of "firsts," "biggest," and "bests," including one of the largest Victorian districts, the famous Kentucky Derby at Churchill Downs, the Bourbon Trail, home of the Louisville Slugger bat, the largest disco ball producer in the country, birthplace of Muhammad Ali and KFC, and a public park system designed by Frederick Law Olmsted, just to name a few. Of course, no discussion of Louisville would be complete without mentioning the official sandwich, the Hot Brown, which was conceived at our host hotel, and the official cocktails, the Mint Julep and the Old Fashioned.
It is in this tradition that the 2019 Assets conference is titled The Triple Crown of Appraising: Education, Ethics and Excellence. Speakers joining us this year excel in their fields of expertise. A few examples are Ann-Marie Richard, the Director of Fine and Decorative Art and Design at Sotheby's Institute of Art, discussing emerging markets; Scott Fintzen of Gaido-Fintzen discussing ethical best practices; an explanation of blockchain and crypto-currencies as they intersect with art technologies by Nanne Dekking, CEO and Founder of Artory and Chairman of the European Fine Art Foundation. Please see the full program for more information on our speakers and topics.
Educational offerings include popular pre- and post- conference classes including Advanced Appraisal Methodology II, with new examples of complex assignments and advanced methodology. The Friday Specialty Tours are complete with curator-led discussions and a lunch break where both groups will meet for dining and music. Our "first" for this year is an opportunity for students and CAPP applicants to take proctored exams for free on Monday after the close of conference.
Register early for the conference, tours, and classes and make your reservations at the Brown Hotel before everything fills up.
Come and enjoy Louisville style southern hospitality in the company of your peers. I'll be lookin' for y'all!